INVISIBLE TRAY SYSTEMS FOR
Individual Tooth Movement
Full Arch Movement
Retention
Working With You to Deliver Smiles... Industry Best Solutions Since 1933
CLEAR FORCE
Full Arch Comprehensive Alignment
CLEAR EXPRESS
1 – 5 Tray System to Align Four Anterior Teeth
CLEAR HOLD
Invisible/Essix Retainer
CLEAR HOLD PACKAGE
Two Sets of Upper and Lower Clear Hold Retainers
Clear Force
Clear Tray System for Full Arch
Movement
Comprehensive system to move
all the teeth
Correct larger amounts of
crowding and rotations
Most cases average 12 to 16 trays
per arch
All the trays to complete the case
Attachment Template if needed
Smile Summary for IPR and attachment placements
"Chewies" for better seating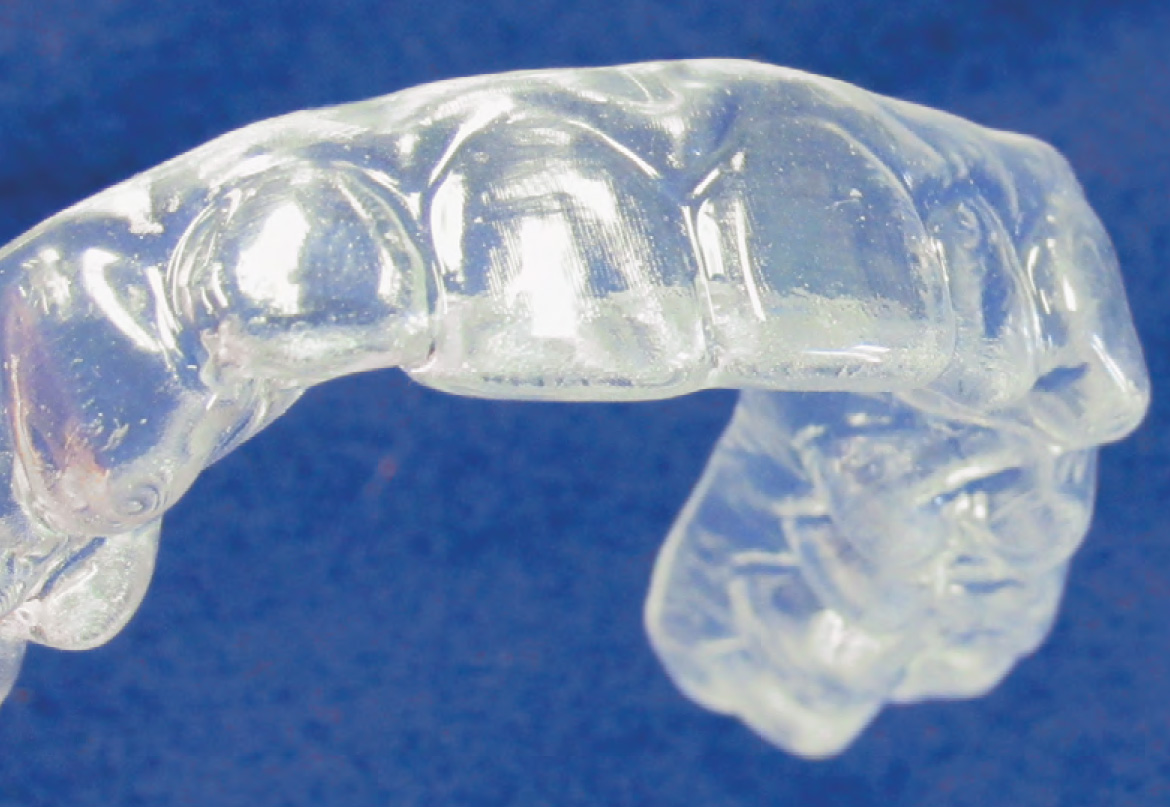 Our expert technicians are available to help you determine the best Clear Solution for your next case
CALL US AT (800) 325-8921
Clear Express
1 -5 Invisible Tray system
Aligns the 4 anterior teeth
Minor IPR needed to create
space to align teeth
No case is too small
Pay per tray system
Correct minor relapse and
rotations
Complete set of trays to finish the case
Individual Tooth Movement Guide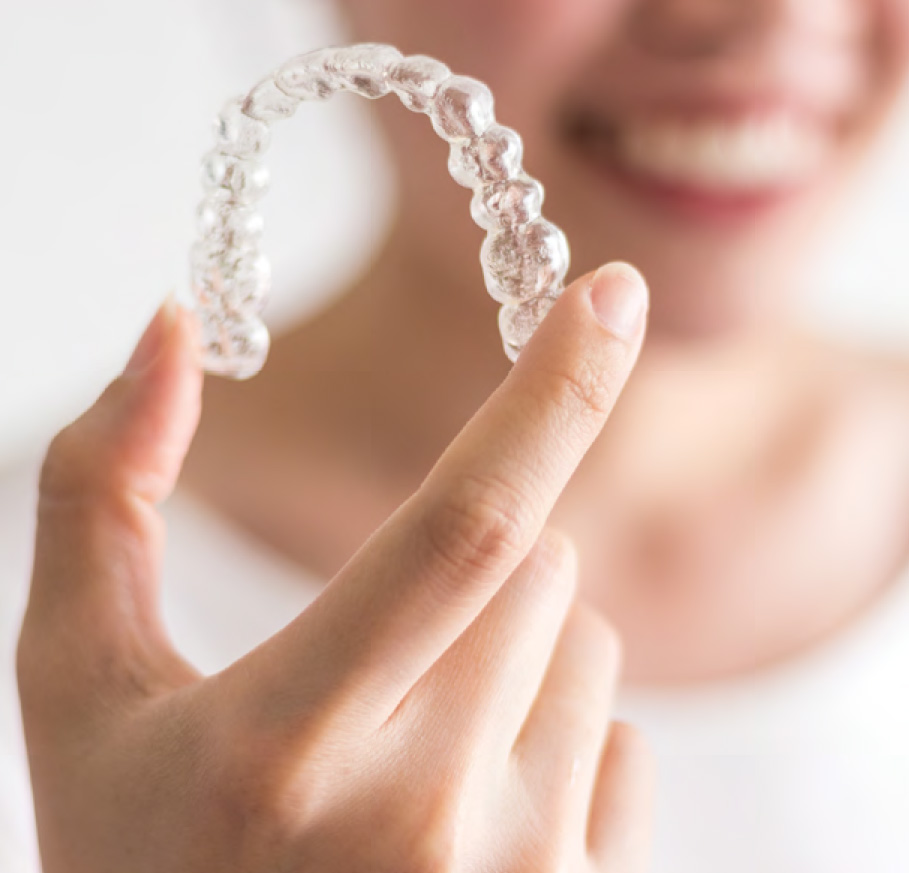 Our Guarantee To You:
If you need assistance, you can talk directly to one of our experienced technicians at our Lab in St. Louis about your case
We will never sell to the public directly
No case is too small
You will receive the same high quality personal service no matter how big or small your account is with us
Our pricing structure makes our services more reasonable than other companies so more of your patients can afford to have the beautiful smile they deserve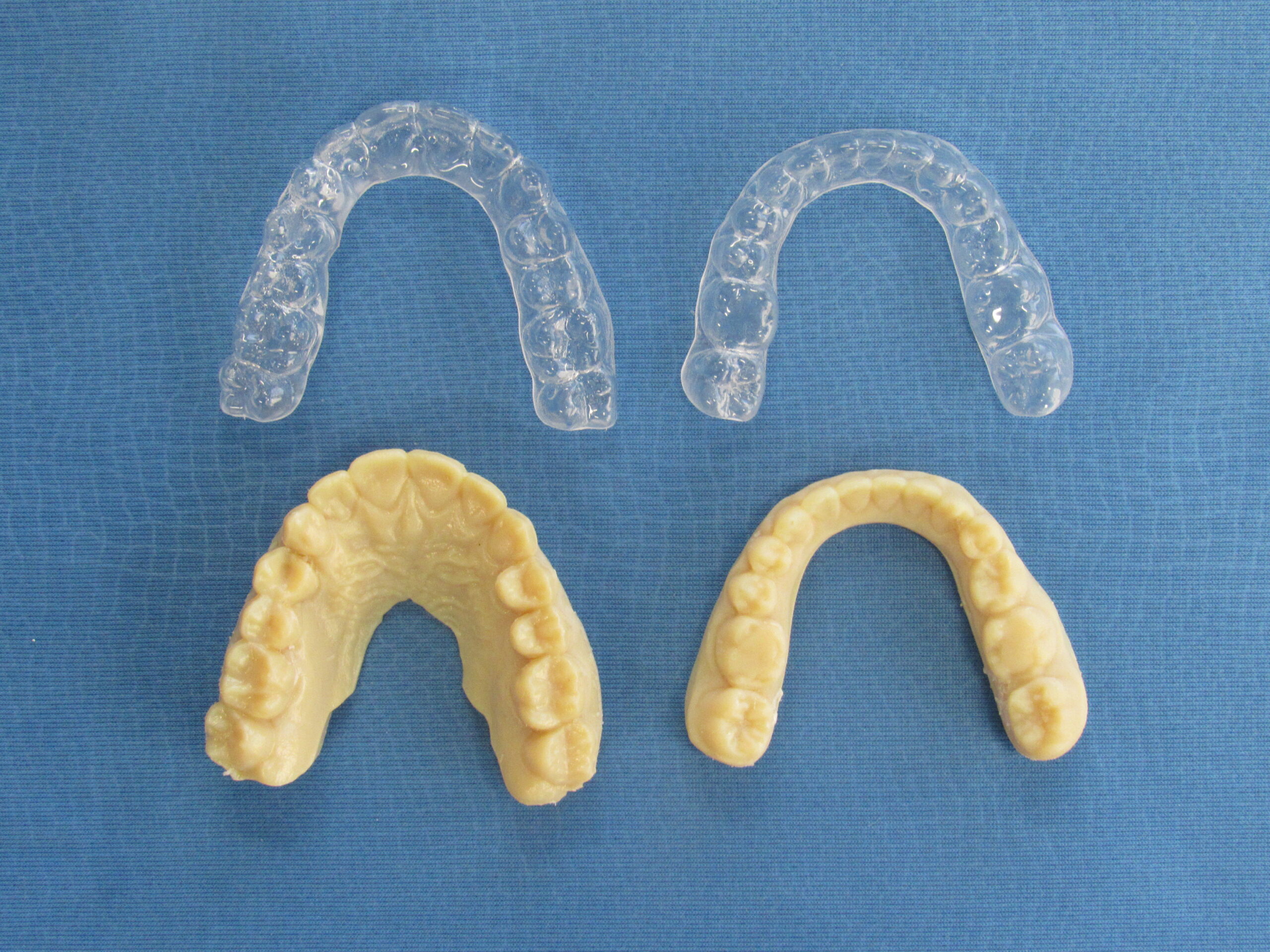 Clear Hold
Invisible / Essix type retainer
Worn on the upper and/or lower arch
Fabricated on a BioStar machine for
superior fit
High quality material that last longer
and resist staining
Fit over a fixed lingual bonded retainer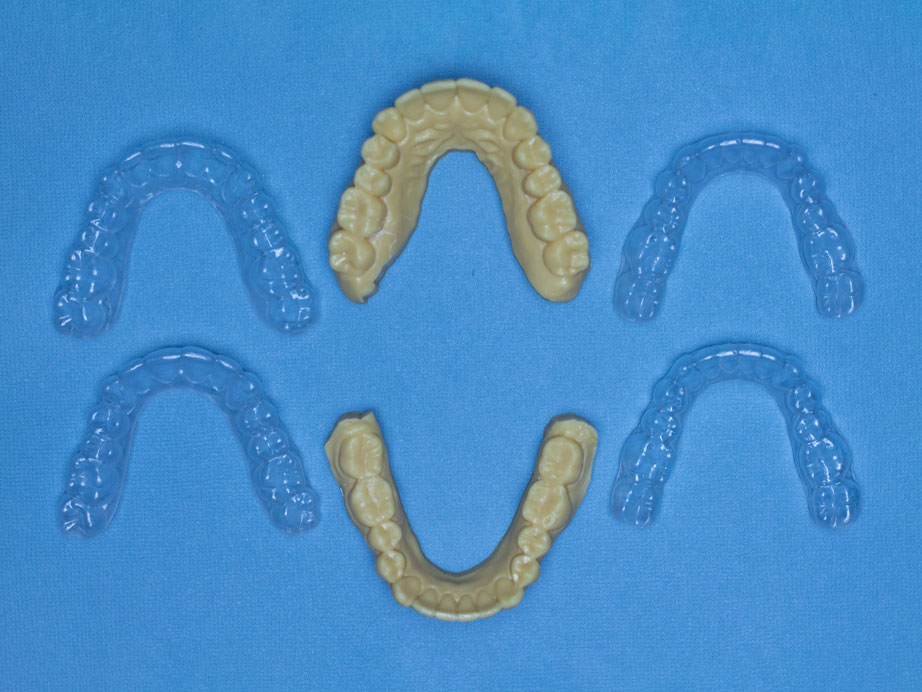 Clear Hold Package
Invisible / Essix type retainer
2 sets of Upper Clear Hold Retainers
2 sets of Lower Clear Hold Retainers
A set of Upper and Lower 3D printed models
*Order your retainers as a package and
save 50% off our individual retail price.
Not sure where to begin?
We offer Free Evaluations for both Clear Express and
Clear Force cases. Simply send us your case, and one of
our expert Technicians will contact you to:
Let you know how many trays may be needed
An estimate of the Lab Cost
Which system would work best for your patient
If you have questions about a case or need assistance, please call our Appliance Hot Line at 1-800-325-8921.
We will answer your questions and provide the excellent Technical Support you are accustomed to at the Ohlendorf Appliance Laboratory.
Frequently Asked Questions
What is needed to submit a case for aligner treatment?
Scans of both arches in occlusion, free from voids, including at least 2 mm of tissue beyond the gingival margin in all areas, upper and lower stone models including bite registration, or upper and lower PVS impressions including bite registration- all free from distortion
Why do I need to send both arches if I only want treatment on one arch?
Both arches are needed for all aligner cases even if treating one arch to avoid any occlusal interference. Some movements may not be possible due to the opposing arch, and anterior fracturing can occur.
How do I submit a case?
With a scanner, see the section on how to send a digital scan. You can mail models or PVS impressions by printing a mailing label from our website.
How long is the turn around time?
Typically 2-3 weeks from approval
Will my cases need attachments?
Attachments are on an as needed basis. You can request not to have attachments in the treatment plan, however, some corrections may not be successful without them.
How do I place attachments?
See the section on attachment placement and importance
Can I leave existing attachments on for a refinement case?
It is recommended to remove existing attachments since over time they can chip, or wear down not having well defined edges which are necessary for the aligners to grip onto. A new template will be provided if new attachments are necessary for the refinement treatment.
What is IPR?
Interproximal Reduction- it is a minute slenderizing between teeth to allow correction for crowding.
Will my case need IPR?
IPR is on an as needed basis. You can request to have no IPR in the treatment plan, however, some correction may not always be ideal without it.
How long is treatment time?
Aligners are worn for 22 hours each day for 2 weeks. If the case includes 10 aligners, treatment time will be 20 weeks.
How are aligners cleaned?
A soft bristled tooth brush, Dawn dishwashing liquid, and cool water. Toothpaste has abrasives that can scratch and dull the aligners.
How do I choose between Clear Express and Clear Force?
Clear Express is for the 4 anterior teeth, for only minor tooth movement- up to 5 trays per arch. Clear Force is for full arch treatment, or for anterior treatment needing more than 5 trays. If you are unsure, ask for a call on your Rx, and we will call you to discuss your treatment objectives.
Can a patient have aligner treatment if they are in mixed dentition?
If the patient does not have any loose teeth, or actively erupting teeth, they may be a candidate. You can submit the case and we will let you know for sure.
Can a patient have aligner therapy if they have crowns, implants, or partials?
Yes. Always indicate these teeth on your prescription. Teeth with crowns may be moved, but are difficult for bonding attachments. Implants and partials can not be moved.
Am I able to see the treatment plan before fabrication?
Yes. With our Clear Force option, you will be sent an email containing the video of treatment progression, as well as an IPR and attachment chart (if needed). You can request that revisions be made, or approve the treatment from there. If treatment is not accepted after this process, there will be a $78.00 charge.
What are chewies and what are they used for?
Chewies are a rubber like object the size and shape of a cotton roll, and are reusable. After the patient inserts their aligners, they will bit on the chewie all the way around the arch to help them seat fully. This will also help the aligners "grab" onto any attachments that are present. Patients should also chew on the chewie like a piece of gum for 5 minutes, twice a day. A chewie should be kept in the patient's aligner case so they have it readily available.
What if a patient loses, or breaks an aligner?
Let us know as soon as possible the specific aligner they need. A new one will be fabricated and sent to your office. They should keep wearing the aligner before the one they need until they receive the new one. A $50.00 charge will apply.
Why have the aligners stopped fitting as treatment progresses?
Non compliance is the biggest reason treatment goes off track. See our section on compliance for more information on how to avoid, or correct this issue.
"As a practitioner, I am always mindful of the cost of orthodontic treatments for my patients. Ohlendorf's Clear Force system offers competitive pricing without compromising on the quality of the aligners or the level of customization. This allows me to provide effective orthodontic treatment at a reasonable cost, making it accessible to a wider range of patients."