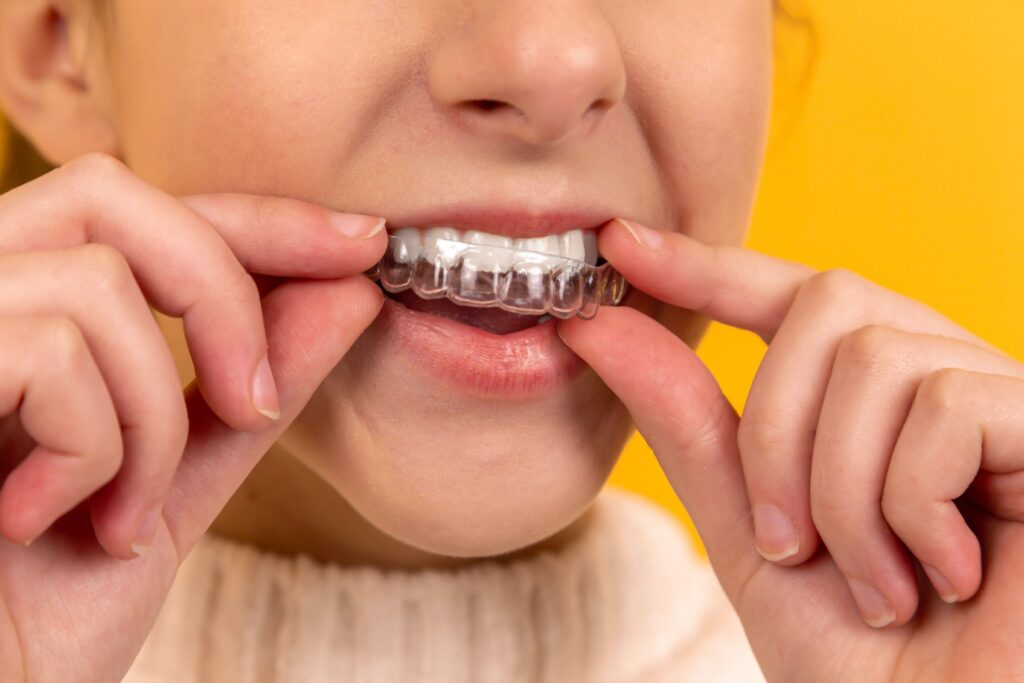 The days of limited, obvious retention options are long over. Over the years, Essix retainers have seen a large leap in popularity, and for good reason. Here, we're going to take you through all the specifics of these clear removable retainers. We'll explain their purpose, the benefits they bring to the table, why patients often prefer them to their other retainer options, and what the process looks like. We'll also spend some time answering frequently asked questions about the technology.
Adding these high-demand retainers to your practice's offerings can bring great experiences and results for your patients. If you're interested in learning more about Essix retainers and everything that goes with them, read on.
What are Essix Retainers?
Essentially, Essix retainers are clear trays of durable plastic that are made to fit over your teeth. They're manufactured to exactly match your smile using scans, impressions, or molds of your mouth. Because of their tight fit and transparent material, there's a minimal impact on how your teeth look day to day. 
You can trace the history of the Essix retainer back to the 1990s. It's an innovation that was made possible through advancements in the technology used to create them as well as the plastic itself.
Common Uses
One common use for Essix retainers is as the final step of a clear aligner process. After that final tray of clear aligners, the Essix retainer is a clear option for holding the teeth in that position. That's the main application we'll discuss in the rest of this piece. 
However, there are also other scenarios in which a clear removable retainer can be of good use. For example, when a patient is missing a tooth, their dentist can sometimes use one of these devices to fill in the gaps. The spaces can be filled in with the color of the surrounding teeth. Do know that this process is meant to be a short-term measure while you decide on a more permanent replacement, like bridges or implants, but it can provide an aesthetic fix in a pinch. 
How Do Essix Retainers Work?
While clear aligners move teeth incrementally with continuous pressure, the retainer does not make any changes to a smile. It is there to maintain the placement the aligners achieved. Orthodontic thought has moved toward encouraging indefinite retention efforts, meaning more people are wearing retainers for a longer period after finishing a course of treatment. An Essix retainer is a great choice because it can last years without needing any adjustments from an orthodontist. They're simply made in the shape of a patient's arches and fit tightly enough to prevent the teeth from moving out of those positions.
Some might not notice a difference between their clear removable retainer and the set of clear aligners they had been wearing up until that point, but there are some subtle ways to tell them apart:
The retainer is a bit thicker than the aligners. 

It usually doesn't come as close to the gums as the aligners did, though this is a very small measurement of a millimeter or two.

Aligners often include attachments to help move the teeth, but retainers never have attachments.
Otherwise, there's not much of a difference between an Essix retainer and the clear aligners many patients are already used to, and that's what makes it a logical conclusion to that line of treatment. 
How Do Essix Retainers Compare to Other Types of Retainers?
Clear removable retainers are not for everyone. There are other options that will sometimes be a better fit for different cases or desirable for different people. The variations in types of retainers mostly have to do with fit, flexibility, and materials. Here, we'll detail the other popular options of retainer and then discuss which ones are best for certain scenarios.
Hawley Retainers
These are the classic appliances that likely first come to mind when you hear the word "retainer." They have a wire across the front of the arch, so they're very visible when you're wearing them. Hawley retainers for the top arch have a plastic component that covers the roof of your mouth, and the bottom ones are similar, but they leave plenty of room for your tongue. They also feature metal clasps to keep them in place by gripping your teeth.
These are convenient, easy to repair, and relatively inexpensive options, which is why they've been so popular for so long. However, the aesthetic component is not ideal for many people, especially adults who don't want to draw attention to the fact that they're undergoing orthodontic treatment.  
Fixed Retainers
While the other types of retainers we've discussed are removable, fixed retainers are permanently in a patient's mouth. They're wires that an orthodontist attaches to the back of the teeth. 
The benefits of having an appliance permanently in your mouth is a big benefit for those who might otherwise forget to wear their retainers as directed. The fixed retainer is always there, keeping the teeth in place, whether you're thinking about it or not. It's also not visible when you smile, so the aesthetic component is typically more agreeable than a Hawley retainer. 
However, there are also challenges to these types of retainers. One of the major ones is dental hygiene. Food can get caught around the wire, so it's important for people with fixed retainers to stay on top of brushing and flossing. Plus, fixed retainers are usually only used for the front teeth, so if you have concerns about other teeth, they won't be a solution. Contrast that with something like a clear removable retainer, which keeps the whole arch in place. 
Which Type of Retainer is Best?
This is a decision unique to each case and the input of a professional. However, some patients will voice that they would strongly prefer an Essix retainer due to its minimal invasiveness and near invisibility. The best candidates for a clear removable retainer usually have already been through a course of treatment with clear aligners. So, they likely had slight, cosmetic changes they wanted to make to their smile and want to use a clear removable retainer to make sure those changes stay in place after their last tray. They're already familiar with the cleaning requirements, keeping track of a removable appliance, and some of the other things that make them trickier choices for other people. 
Fixed retainers are good for people who don't want to worry about misplacing their retainers, and Hawley retainers are serviceable options for basic cases. And if a patient is already embarking on a clear aligner treatment, it usually makes the most sense to finish it out with a clear removable retainer, since that's what they are already used to.
What is the Clear Removable Retainer Process Like?
If what you've learned so far about Essix retainers has made them an appealing option, you should start looking for your next steps toward getting that kind of appliance for your case. 
The first thing to do is to make an initial assessment of the case at hand. Of course, if the patient is already undergoing a course of treatment, you should have some idea of what kind of retainers would be best for them at the end of it. Whether they're currently in braces or working through a course of clear aligner trays, they will need some kind of retainer at the end of the treatment. See if they're interested in clear removable retainers, or if they would prefer a different method of retention. Then, you can use your professional expertise to determine whether they are a good candidate or not. 
If you and your patient agree that an Essix retainer is the best option moving forward, then you'll start the process. You'll send in the models, impressions, or digital scans of the patient's teeth, and the manufacturer will create the necessary retainers. After the initial fitting to ensure that the clear removable retainer has been made correctly, you shouldn't need anything else done to the retainer until it's time to replace it.
How Should You Care For Retainers?
Regular cleaning is a huge concern for a clear removable retainer. If they're dirty, they won't be clear, after all. To keep them as discreet as possible, you should rinse them with cool water each time you take them out. You can also regularly soak them in cool water, and use a soft toothbrush to gently clean them when necessary. Do not use toothpaste or hot water on an Essix retainer; they can damage the plastic. There are also special cleaning agents designed specifically for clear removable retainers that you can use once in a while to get a deeper clean. Your orthodontist will be able to give you a recommendation, and they should be a good resource for any other cleaning concerns you might have. 
Other than cleaning, the other most important part of Essix retainer maintenance is storage. Make sure that it's in the appropriate case when it's not in your mouth. That way, you will be less likely to misplace it or accidentally throw it away in a pile of used napkins. 
Even if you do take good care of it, though, a clear removable retainer typically needs to be replaced after about three years. They naturally get looser with time, and you want them to stay tight to support your teeth and keep them from shifting. You'll also need to replace a retainer if it gets damaged in any way. Contact your orthodontist, and they'll be able to help you with the next steps.
Common Questions and Concerns about Essix Retainers
Now that we've covered the basics about clear removable retainers, let's look at some of the more in-depth questions people often ask when they're preparing to get their own Essix retainer.
The first is the comfort factor. People wonder whether the clear removable retainer is going to be irritating when it's in their mouth. The good news is that most patients find an Essix retainer easy to forget about. This is especially true if they're already used to clear aligners. As long as they're dutiful about wearing their retainers as recommended, they shouldn't put uncomfortable levels of pressure on their teeth.
Another concern a potential patient might have is how they'll sound talking when they're wearing the retainer. Some people worry they'll have a noticeable lisp or other problems with enunciating correctly with all that plastic in their mouths. The truth is, all retainers can impact how you sound, but clear removable retainers typically don't cause too much of an issue. With a little practice, they should be able to speak naturally and clearly.
The last question we'll address is how long most people are required to wear the retainers each day. You as the orthodontist will be able to give a specific recommendation for each circumstance, but typically, patients start out wearing their retainers all the time for a few months and then only at night. Some people are able to step down to every other night after about a year, but again, input from a professional is vital to ensuring good outcomes in each specific case. 
Add Clear Removable Retainers to Your Practice
Now that you're familiar with all the ins and outs of Essix retainers, you should feel comfortable discussing the subject with a professional. You can bring any lingering concerns up with them, and they should be able to answer your questions. After you get it all squared away, you can start offering your patients the impressive experience and results of a clear removable retainer, and everyone will benefit from that.
If you have a dental or orthodontic practice that would benefit from partnering with a clear removable retainer provider, consider us here at Ohlendorf. We have a long history of outstanding quality, and we take pride in offering our clients the best orthodontic appliances. Our clear retainers and clear aligners are excellent options to offer your patients. Don't hesitate to reach out if you have any further questions — we look forward to hearing from you.