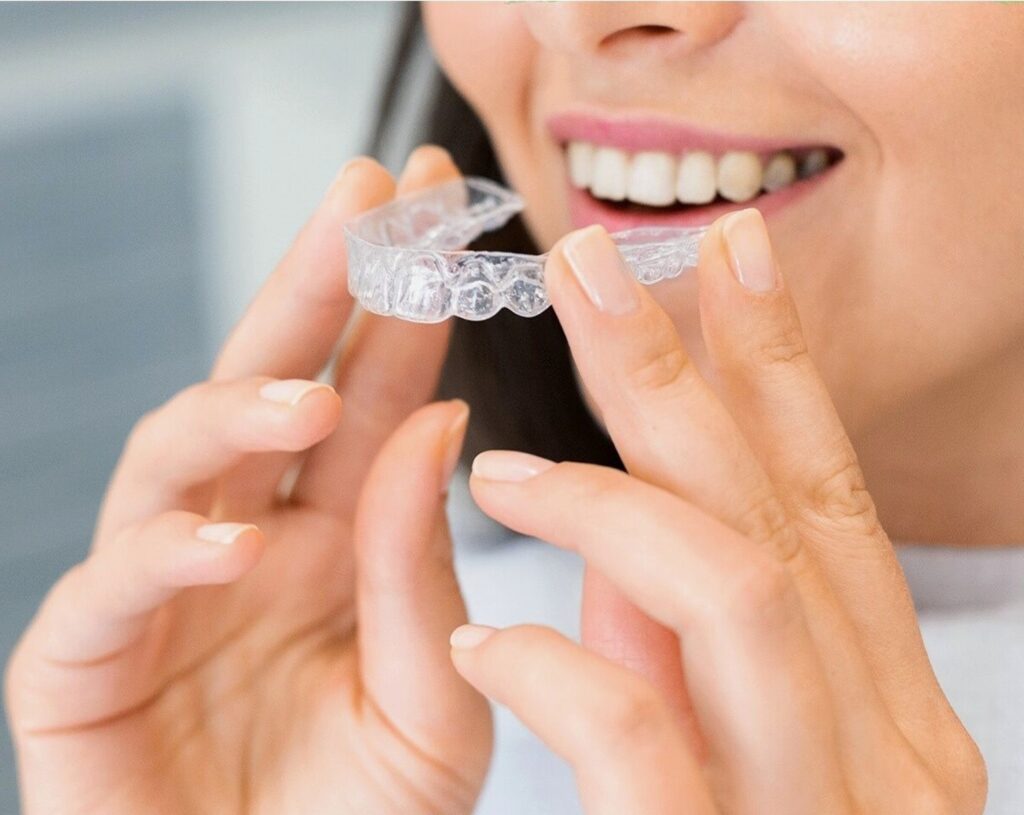 Invisalign is probably the most well-known brand of clear teeth aligners in the US today. That treatment system has been around since the late '90s, so they've had plenty of time to build up credibility and name recognition. In spite of Invisalign's popularity, there are a lot of other, quality options for clear aligners that are growing in popularity. It makes sense — alternatives to Invisalign can often be less expensive than their more established counterpart, among other benefits. It's only natural for consumers to choose the option that works best for their bottom line.
However, there are lots of other aspects of clear aligners that your dental or orthodontic practice should consider before choosing an Invisalign alternative. Being absolutely positive you're providing high-quality alignment services will bring your patients a lot of peace of mind regarding the process. Plus, you can feel confident that you'll see great results at the end of treatment. 
We've put together the main considerations you need to take into account when you're choosing an Invisalign alternative. By the end of this piece, you should feel secure in your decision, or at least have a solid foundation to start with. Let's begin with the most obvious one.
Cost
This is likely the biggest reason why you are looking for alternatives to Invisalign in your practice. Finding a clear aligner solution that costs less can save your patients a lot of money and convince them to have cosmetic straightening that they might have otherwise resisted. 
Lots of people are unhappy with the alignment of their teeth, but they assume the barriers to getting the smile they want are too steep for what it's worth. When you can offer a solution that's not as invasive or as aesthetically disruptive as traditional braces that still falls within their budget, they might start to reconsider. Alternatives to Invisalign are often more cost effective and therefore more accessible to a wider range of people.
Of course, it's important to keep all of the other considerations we've listed in later sections in mind, too — deciding on cost alone is likely a recipe for poor results. The efficacy of an Invisalign alternative is ultimately more important than cost savings. If the trays don't work, or if, even worse, they end up causing damage to the patients' teeth, then no amount of money is worth it. 
Definitely weigh the cost of all the Invisalign alternatives you're considering, but take it as one consideration among many, not the end-all-be-all.
At-Home Options
When it comes to cost, lots of patients are interested in the direct-to-consumer model of Invisalign alternatives. They can usually save money that way. If your patients ask about those options, caution them against embarking on a treatment plan without the input of a trained professional. Your experience and expertise is a valuable part of the clear aligner process, and the savings they might get from skipping trips to your office can come at a steeper price than just money — it could damage their teeth.
Treatment Time
There's a delicate balance when it comes to alternatives to Invisalign and treatment time. Getting the straightening done faster is going to be a huge appeal to prospective patients, but going too fast can be a sign of potentially unsafe tactics. Use your expertise in the field to determine what an unreasonable time frame is. 
Patient education also has a lot to do with how quickly they can complete their treatment. If they're not wearing their aligners for the appropriate amount of time each day, then they're going to fall behind the planned timeline. Make sure you impress upon them just how important it is to diligently wear their aligners. This could mean any time they're not actively eating, they're wearing their aligners, but other alternatives to Invisalign have nighttime-only options. These won't work for everyone and will likely take longer than the continuous wear model.
Everyone wants their treatment to take as little time as possible. However, the proper implementation is ultimately more important than speeding up the process. Watch out for anything too fast while doing what you can to make sure nothing's dragged out unnecessarily. 
Kinds of Cases they Can Treat
Not all alternatives to Invisalign are meant to treat every kind of orthodontic issue. Some are better suited to more mild, cosmetic concerns, while others can complete a whole arch alignment. You'll want to be able to offer a wide range of treatments to your clear aligner patients. So, if they only need a few teeth slightly rotated or minor crowding corrected, then you can provide a quicker and more appropriate solution rather than offering a more one-size-fits-all approach. 
Alternatively, if you only partner with alternatives to Invisalign that treat the very mildest of cases, you won't be able to treat a lot of patients. Finding a company that can make clear aligners for a wide range of cases is a great way to ensure that you're truly expanding what your practice can do and not limiting it to only a few kinds of cases.
It can be helpful to find a company that manufactures a few different lines of clear aligners. That way, there will be different options to suit different cases' needs. It's a great way to expand your offerings and potentially increase the amount of patients in your practice.
Track Record
It's important to make sure the Invisalign alternative you're recommending to your patients has a proven history of working well, even if it's much newer than the well-established players in this field. 
Finding reviews online is one way to investigate the track record of the Invisalign alternative you might be considering. And as with any company, you can always look up their standing with the Better Business Bureau. Alternatives to Invisalign with a lot of complaints aren't the kinds you want to partner with. 
On the other hand, it's also not a good sign if you can't find much about the company. A brand-new business might not have their processes and operations nailed down yet. It's usually better to find a company with a long history of success and happy patients. It's such a crowded space already that the established manufacturers have stood the test of time for a reason. 
Asking around to see what service other practices are using can be another way to get a feel for the track record of various alternatives to Invisalign. Whichever route you choose, do your due diligence and ask the companies you're considering about all the other considerations on our list. You'll have more trust that way.
Materials
A clear aligner is only as good as the material it's made out of. Many of the newer materials are more comfortable, stronger, and harder to see than their predecessors, and those are the kinds of innovations you're looking for in alternatives to Invisalign. Definitely ask the company you're considering about the materials they use, and if they've been around for a while, make sure they've been updating their methods over the years.
Durability is a huge factor here. Patients wear their aligners for upwards of 20 hours per day, so they need to be able to stand up to such heavy use. Another thing about the materials you might not initially consider is how clear they stay over time. The biggest selling point of clear aligners is that they don't impact the look of your smile during treatment, unlike traditional braces. So, you're looking for Invisalign alternative materials that are easy to clean. If they can't get completely clean and clear after all that wear, then they're going to be too visible on the patients' teeth. 
Technology
This is a bit of a catch-all category that touches on a lot of the other aspects we've already discussed. Consider how the Invisalign alternatives are made and how the manufacturer takes the shape of the patients' arches into consideration (scans, impressions, or models). Top-of-the-line products will likely be more accurate and at the cutting edge of technological advancements in the industry. 
Alternatives to Invisalign all use similar technology, for the most part. Looking for drastic differences probably won't bring too many results. However, you should stay away from anything that seems too outdated, or if the company can't competently answer your questions about the tech they utilize. The main players should fully understand what's going on and be able to speak in detail about how their aligners are made and how the process works. 
Getting on top of the newest innovations is a great sign that the Invisalign alternative is effective and forward-thinking. Getting too far ahead of themselves, though, is a bit of a warning sign.
Customer Service
We've already detailed everything you need to look for in an orthodontic lab in a previous post, so you can read that one if you need all the specifics on this point. However, we'll address the broad strokes here for convenience and completion's sake. 
You should get all the guidance, support, and help you need from the lab that's fabricating your clear aligners. Make sure you're fully aware of how the process works when you start working with an Invisalign alternative. For example, if there's an initial consultation, that can be a big help toward getting your patients the right fit for their case. That might be a feature you should prioritize. 
We mentioned treatment time in a previous section, and making sure you can start the treatment as quickly as possible is one way to speed up the whole process. A company that's not responsive or slow to manufacture the trays is going to be frustrating. 
Alternatives to Invisalign Here at Ohlendorf
If you're looking for alternatives to Invisalign that tick all of the boxes we've laid out so far, you don't have to look any further. The clear aligners we make fit a lot of different needs. We have three different tray systems on offer to dental or orthodontic practices: Clear Force, Clear Express, and Clear Hold. Clear Force is our most comprehensive Invisalign alternative, as it is meant to move the entire arch. Clear Express is best suited to mild cases that only require aligning the four anterior teeth, and Clear Hold is for retention. 
So, the alternatives to Invisalign that we offer can cover a wide variety of patients and cases. There are also customizations made in each of those different systems to make sure the solution is the best fit for each individual case. We'll provide any attachment templates, IPR guides, and any other materials you'll need to make the treatment process go smoothly.
When it comes to flexibility, customer service, and quality of treatment, Ohlendorf Appliance Lab delivers on all fronts. We also aim to continue adapting as the industry advances — we've kept on top of the game since 1933, and we have no plans to slow down.
Find the Right Invisalign Alternative
Armed with all of this information, your practice should now be ready to choose the right Invisalign alternative to offer your patients. Clear aligners are surging in popularity for good reason, and the growing number of people interested in this type of treatment are discerning about the companies they choose to go with. Instead of opting for the most obvious choice, going for an Invisalign alternative could help your patients achieve great results with less strain on their budget. It can also make this type of treatment more accessible for those who otherwise couldn't afford it. As long as all the other elements of the service are there and above-board, you're making a great decision.
Here at Ohlendorf, our clear aligner solutions are some of the best alternatives to Invisalign on the market. You can count on our long history of superior craftsmanship and service to bring the best results for your patients. If you're curious, you can read more about our history on our website. We'd also love to answer any other questions you might have about our clear aligners, so don't hesitate to reach out.